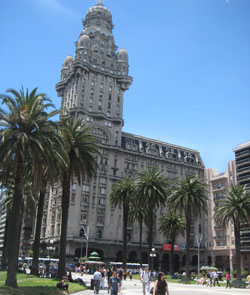 Introduction
Some 1.3 million of Uruguay's 3.4 million inhabitants live in the capital, which dominates the country economically, politically and culturally. The city was founded by the Spanish in the early eighteenth century; its first European settlers were a boatload of young families from the Canary Islands. Freed slaves from Brazil and Argentina came to the city in the nineteenth century, attracted by rumours of fair treatment. In time, more immigrants would arrive from Italy, Spain (particularly Galicia), Portugal, Germany, France Great Britain (the British built the country's first railways) and Poland. Most emigrated in the hope of escaping poverty at home; others to escape repression. Montevideo also has a substantial Jewish community.
The city expanded from the original colonial settlement (now the Old Town) inland, through vegetable gardens and pastureland that is now the city's Centre, and along a series of beaches, now the modern residential suburbs of Pocitos and Carrasco. Less brash and frenetic than its neighbour accross the River Plate, Argentine writer Jorge Luis Borges described the city as "the Buenos Aires we once had, that slipped away quietly over the years…"
In the chapters that follow, references to streets (calles) and squares (plazas) are left in Spanish.